TUESDAY, APRIL 15, 2008

CARRY THE LIGHT - PAINTINGS

This past fall I received an email from a gentleman in San Francisco, who had just watched a live performance of the band on tv. The show was shot by the KET network in 2005, when we played the "Master Musicians Festival", in Somerset, KY. He enjoyed the show and decided to drop us an email to express just that. Upon reading his email, I noticed a link to a website which I explored. To my amazement, I discovered that he was a painter and was I totally inspired by his work.

To make a long story short…we exchanged a few emails and I shared with him that I was recording a new CD and had a vision for a CD cover. I pictured a little girl in a rain storm holding a candle, and for me, that represented our children trying to keep the candle lit in the darkest of times, times that we may very well be facing as a human race today. He responded by saying he would love to paint that picture and I would be free to use it if I liked it. I went on to say that I felt that the back of the CD should wrap around into a picture of hope and I felt it best to leave that part to his imagination.

The following link is the to ""Carry The Light - Paintings 1 & 2″…For those of you who would like to view this work in it's raw form I invite and encourage you to visit this link. These paintings are beautiful…all of his paintings are beautiful. The artist's name is Boris Koodrin. He has made these paintings available for the public to purchase. The little girl in the painting was taken from a picture of me as a small child. It's very special when connections such as this happen. I feel honored to have his work as part of the CD's story. The story of this CD is about carrying the light…no matter what storms we face, the light can never go out. For me, music is the light.

Boris also shared with me a story of how he meet Janice Joplin in Golden Gate Park, back in the late 60's. I believe she was opening for the Dead. We are playing the California Blues Fest this Memorial Day, in Golden Gate Park…I will meet Boris and his wife for the first time there.
It's a small world….
;>)
k

P.S. Be sure to check out his main website too: http://home.earthlink.net/~artika/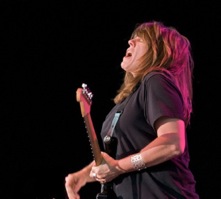 .