San Bruno Mural 2008
At first light I hovered,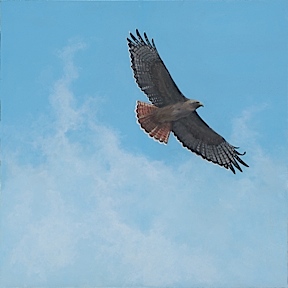 still, amidst the clouds
Searching not for greatness,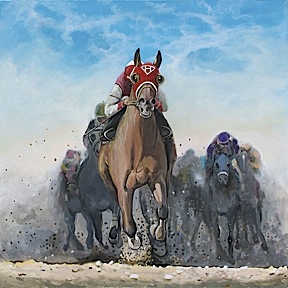 but the power to inspire
And as I followed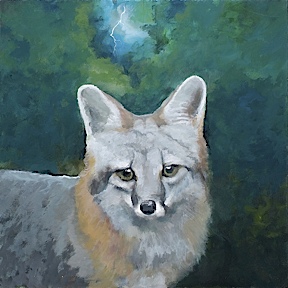 the fox's cry into the night
I found the courage to dream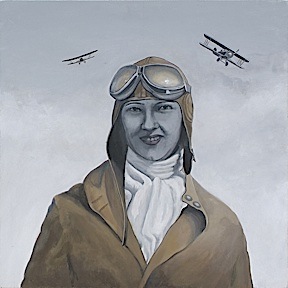 And in my dream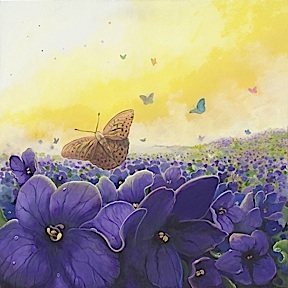 I awoke to beauty












.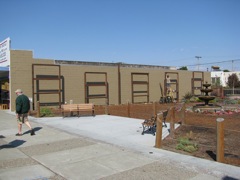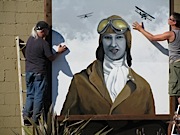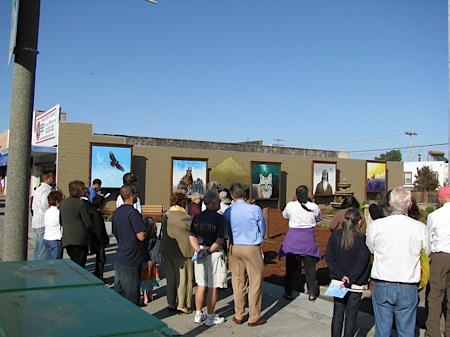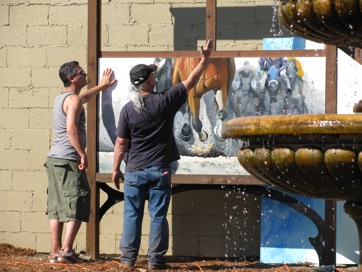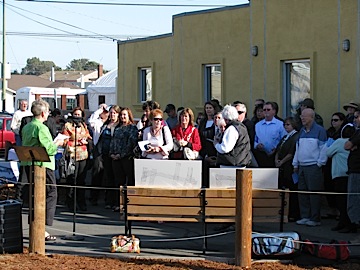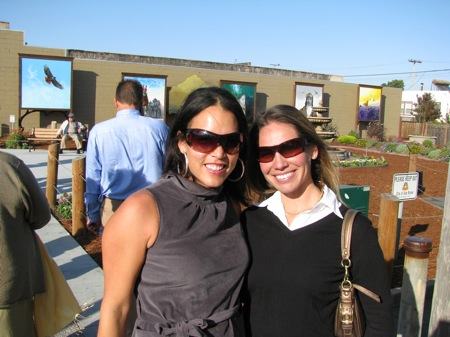 security forces
San Bruno murals unveiled to the public
By Kyveli Diener
San Mateo County Times
Article Last Updated: 10/08/2008 08:32:57 PM PDT
SAN BRUNO

With the unveiling of two new murals today, residents are receiving flashy new public art pieces that double as reminders of the city's rich history and diverse wildlife.

The three artists and the commission responsible for the murals hope they will give passers-by a newfound pride in San Bruno and a sense of tranquility.

"These are the first public murals we've had installed, and I know they're going to be really appreciated," said John Alita, staff liaison for the San Bruno Culture and Art Commission, which selected the works. "It's a big, exciting time for the city. People here really have an appreciation for public art."

The murals, which will be unveiled at 4 p.m., have two starkly different subjects.

"A Dreamer's Song," by Boris Koodrin, a San Bruno resident for more than 25 years, focuses on nature and places that have defined San Bruno and yet receded in residents' memories.

The 90-foot mural consists of five paintings--each 8 feet tall and 8 feet wide--that depict a red-tailed hawk, Seabiscuit galloping at the historic Tanforan Racetrack, a female aviator at the old Mills Field airport, a grey fox, and a vast field of violets with butterflies fluttering in the sky above, a scene that recalls the flower-growers once so popular in San Bruno.

"My idea was to put out some of the symbols of the nature that surrounds us and have it touch people in a certain way," said Koodrin, 59. "These are elements that are inspiration to our lives, some of them that we're familiar with, and some of them that we're not aware of."

Koodrin said his works could speak to anyone who lives in or passes through San Bruno, particularly the butterfly painting, which is "meant to give a feeling of lightness" and encourage people not to dwell on negative thoughts.

This mural is located at a small park at the intersection of San Mateo and Jenevein avenues.

The second mural, called "The History of Transportation," was created by Jennan Beers and Marianne Bland, two childhood friends who grew up in Newark. Bland, 26, said she and Beers, 28, interpreted the theme of transportation over the decades in San Bruno, using the concept of historical photographs.

The 50-foot mural consists of 10 paintings that show different historical periods in the form of photography that was popular in each era. The first painting depicts Uncle Tom's Cabin, an inn that was built in fledgling San Bruno in 1849 and was a popular stop on the Butterfield stagecoach route.

That image is painted to look like a daguerreotype, an early form of photography. The rest of the paintings show trains, trolleys, the Tanforan Racetrack, El Camino Real as a dirt road, airplanes, SamTrans buses and a BART train that's been painted to look like a modern digital photograph.

The transportation mural will be unveiled at the intersection of San Bruno and Huntington avenues. Bland said she is familiar with the stress that traffic at such busy intersections can bring and hopes that her mural will alleviate some of the aggravation and honking that is so frequently found there.

"Having been born and raised in the Bay Area, Jennan and I are proud to know that we're part of this mural project, and reflect that history and give people something to enjoy while waiting at that very busy intersection," she said. "I hope it makes it a brighter experience for them."

Jeanne George, who has served as chairwoman of the six-year-old Culture and Arts Commission for two years, said the murals may give people who see them a "pride of place" in San Bruno. She said the paintings of the history and wildlife of the city are "reminders that these things exist, and maybe we should take time to notice."

"I think San Bruno can be easily forgotten or overlooked as not being of much consequence," she said. "I think that the murals can help people be more proud and pleased with the city and learn more about it."

The murals have already earned their first fan--San Bruno's mayor, Larry Franzella, who was given a "sneak preview" of the paintings.

The verdict? "They're pretty spectacular," he said.